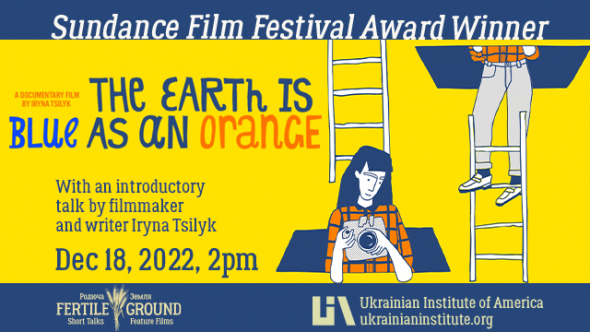 Hosting Fertile Ground: Earth is Blue as an Orange
I curate a film series for the Ukrainian Institute of America most months. I say most months because Ukraine coping with a genocidal war waged by Russia, so some months, logistics to get films and speakers together can be difficult. This month's film is Iryna Tsylik's The Earth is Blue as an Orange, winner of the director award at Sundance. Iryna will be joining us for a short talk.
Synopsis:
To cope with the daily trauma of living in a war-zone, Anna and her children make a film together about their life in the most surreal surroundings.
The Fertile Ground / Родюча Земля Film Series:
Fertile ground is the foundation of Ukraine's culture, its folk traditions, its agricultural tradition. In the midst of hundreds of years of colonial oppression, Ukraine has produced great artists, musicians, and writers/poets. Since independence, and particularly since the Revolution of Dignity, Ukraine has buzzed with creativity. Kyiv is among the most dynamic arts capitals in Europe. Political freedom is growing. Economic development was underway before the war. In the arts, writing, filmmaking, Ukraine blossoms even when under attack. Fertile Ground highlights this new generation of creative thinkers and makers contributing to a modern Ukrainian Renaissance.